Library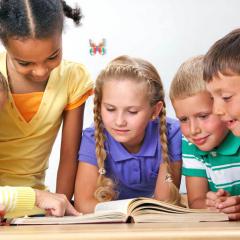 If you've stepped into the Village School library lately you may have noticed a few changes.
The members of the library committee have rearranged some of the furniture, created a quiet reading corner, put books on display all over the place, and started the process of refreshing our collection.
Thus far the feedback from students, teachers, and parents has been overwhelmingly positive and we're so glad about that. The whole idea was to get everyone more excited about and engaged in our library. To make it more accessible, more dynamic, and more integral to the process of helping our kids become enthusiastic, lifelong readers.
Now you might say, how can moving a bit of furniture around really make a difference in how our library benefits our kids? And besides, there's a library in every classroom. Plus, I also take my child to the public library and we've got books at home. Isn't that enough? Well you're right about the furniture, on its own it can't do much. But as part of a larger campaign to invest (literally and figuratively) in our school library, it can have a tremendous impact. Even with all the other library resources available inside and outside of school, it turns out that the actual school library is uniquely positioned to enhance students' success.
For example, a US Department of Education study in Colorado found that "among school and community predictors of academic achievement, the size of the library media center staff and collection is second only to the absence of at-risk conditions, particularly poverty and low educational attainment among adults." And that is only one of 21 state studies that have found the exact same thing: school librarians and school libraries play a special role in supporting students in academic achievement, lifelong learning, 21st century skills, and reading.
And there's even more interesting research about how "deep reading"–where you get lost in a book for lengthy amounts of time and go through emotional and moral dilemmas within a story–is actually vigorous exercise for the brain and potentially increases our real-life capacity for empathy. It is this kind of reading that can only be developed through exposure to and interest in stories, books, and literature.
The bottom line? A vibrant, current school library is fundamental to the success of our kids. It not only helps support and encourage their basic literacy skills but, perhaps more importantly, it can ignite their passion for reading. It can get them excited about adventuring, exploring, escaping, and understanding the world through the written words in the pages of a book.
Now, we know that here at Village our library also still needs to serve as a game room, center room, training room, tutoring room, spooky room, and whatever-else-comes-up-all-purpose room. Those things are also all important to the Village experience. We're hoping, however, that as we continue putting effort into transforming our library into far more than just a room full of books, we can count on everyone's support. We need to keep the momentum going through things like: continuing to refresh our collection, expanding student's access to browsing and borrowing books, and investing in technology/electronic resources specifically for the library. Let's keep our library alive and vibrant for all of our kids!
Village Library Fun Facts
How many books are there in the Village Library?
Approximately 6,343
What are the top 10 most checked out books so far this year?
The LEGO Ideas Book: Unlock Your Imagination, Daniel Lipkowitz

The LEGO Book: Ideas to Bring Your Bricks to Life, Daniel Lipkowitz

Minecraft: Redstone Handbook, Egmont UK Limited

Frozen: The Essential Guide, Barbara Bazaldua

2013 Book of World Records, Jennifer Morse

Dork Diaries: Tales from a Not-So-Graceful Princess, Rachel Renee Russell

LEGO Star Wars: The Yoda Chronicles Trilogy, Ace Landers

LEGO Minifigures Character Encyclopedia, Daniel Lipkowitz

Forever After, Disney Press

Goldilicious, Victoria Kann
Where does the library get its books?
Library books are added to our collection from several different sources. We have an ongoing subscription to the Junior Library Guild and receive a few new books on a monthly basis across all grade levels. We also add to our collection on an ad hoc basis using resources such as the Association for Library Service for Children, which awards both the Newbery Medal and Caldecott Medal among others. Books are also donated by students and families as part of our Birthday Book program, 5th Grade Legacy program, and on an on-going basis in support of our library.
What is one the newest books in the collection?
Our latest shipment from the Junior Library Guild included an updated version of Hansel and Gretel written by Neil Gaiman and hauntingly illustrated in black and white by Lorenzo Mattotti.