Visual Arts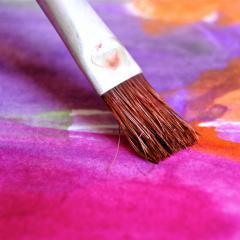 As part of the STEAM curriculum, Visual Arts provides students with planned, success-oriented art experiences using a variety of materials and techniques. Students will produce artwork in two and three-dimensional forms, and become familiar with drawing tools, techniques, art history, color theory, painting, printmaking, collage, and either papier mache or clay. The students will study each element (line, shape, value, texture, color, space and form) of art as a unit.  Several formative assignments, in addition to a larger project, are given for each unit.  Students will think about, talk about, and make judgment on works of art, including their own.  This analysis gives students a strong foundation in the critiquing process and constructive criticism, skills that are essential to the 21st century workplace.  
Art Teacher, Maria Poling, shares some of the happenings in the Village School Art Room…
Remember the days when you gave your child that special toy and all he or she was really interested in was the box? Fast forward to Village. Last year I had the 5th graders use cardboard, my pile of boxes that I've been saving in the corner of the art room, paper, duct tape, pipe cleaners, plastic water bottles, gold colored cardboard, and other odds and ends to create with. Now at another school I might have to rationalize this project by saying that it's part of the "5th grade Visual and Performing Arts Standard: Standard 2.5 Creative Expression: Assemble a found object sculpture (as a assemblage) or a mixed media two-dimensional composition." But what I love about Village is that Village families already know the value of the project. The kids are creating, thinking, making decisions, working collaboratively, learning.
Anyone who walked by my class saw kids and materials spread out all throughout the room–the room was a mess! But as I told Teacher Sherry, better in the art room than in her room. There was a lot of creative energy as the kids cut and taped, imagined and reworked their ideas. They were all engaged and they were so happy–just like when they found those boxes all those years ago. And when it was time to stop for the day, they did an amazing job cleaning up and putting away their projects to finish during the next class.
I started teaching art at Village the year Room 10 opened up as the Art and Music room. My son attended Village K-5 and I taught him art as a fifth grader. I used to be a little sad each year when his art projects came home because although there were some great projects, my son was a slow worker and his projects were almost always incomplete. I wished that he was able to have the time he needed to get his artwork done to his satisfaction. That's one thing I love best about having an Art Room. When kids need more time, we can accommodate that. Face it, most artists don't finish an artwork in 40 minutes. If professionals can't, why do we expect our kids to? We take time at school to go back multiple times to work on writing, science, and social studies projects. Art is the same way. There is an awful lot of learning that takes place when you go back and keep working on a piece of art. It lets the kids get more complex in their art, work out their ideas, and in the case of kids like my son, it lets them finish their creations.
In the Art Room we make some huge messes. But before the kids leave the room, they always clean it all up and get the room ready for the next class. Everyone is responsible for getting the whole room ready.
Sometimes in art we have a set idea for a project when we start, but then things end up taking a different direction. Having a room dedicated for art means we have the ability to be child-centered and adapt things as needed.
Some of my favorite projects last year were making found object creations with the fifth graders, painting beautiful chalk pastel missions with the fourth graders, weaving in the round with the third graders, printmaking with the second graders, collage with the first graders, and making monoprints with the kindergartners. Each day is always a lot of fun, and I'm around lots of happy kids and see a lot of smiles.